creating amazing images for your guests
fun includeD*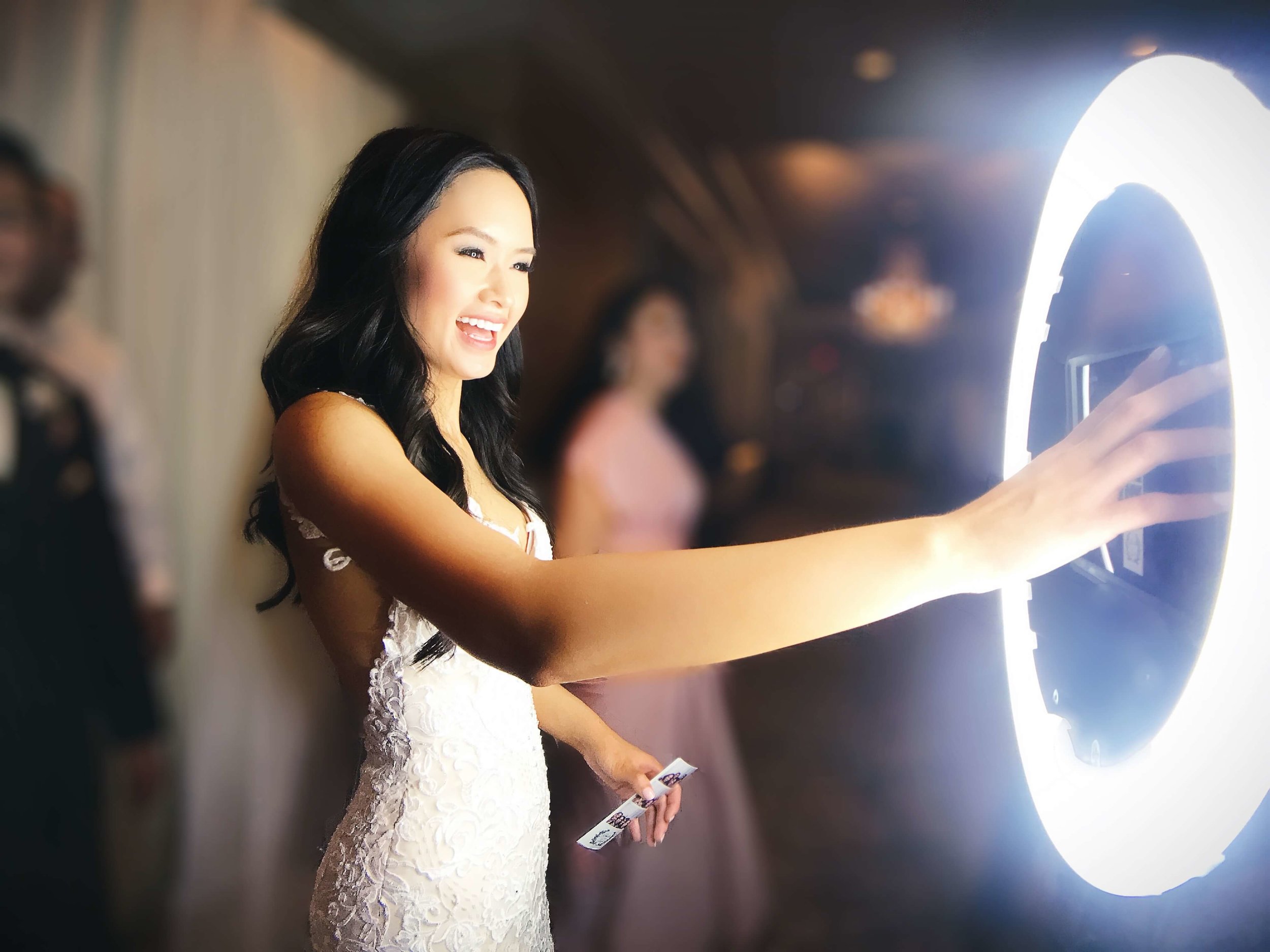 360º VIDEO BOOTH
OUR 360º VIDEO BOOTH WILL BE THE HIT OF YOUR EVENT! GUESTS WILL BE ABLE TO STEP ONTO OUR THREE FOOT PLATFORM AND CREATE THEIR OWN MUSIC VIDEO COMPLETE WITH FILTERS, ANIMATIONS, AND EFFECTS.
AFTER TAKING THEIR VIDEO GUESTS WILL BE ABLE TO TEXT OR EMAIL THEIR VIDEO IN LESS THAN 60 SECONDS! VIDEOS ARE OPTIMIZED FOR SHARING ON ALL SOCIAL MEDIA PLATFORMS!
STARTING AT $4,000 FOR 3 HOURS
DESIGN YOUR
OWN LAYOUT!
DESIGN YOUR OWN TEMPLATE WITH OUR BRAND NEW ONLINE DESIGNER!
CREATE A DESIGN FROM SCRATCH OR USE ONE OF OUR
1,000+ TEMPLATES! NEW THEMES ARE ADDED WEEKLY! ADD YOUR
OWN CUSTOMIZATION! CHOOSE FROM EITHER A STRIP, 4x6 LAYOUT,
OR SHARABLE SOCIAL MEDIA LAYOUT!
LIVE TEXTING
GUESTS ARE ABLE TO TEXT THEIR PHOTOS
TO THEMSELVES INSTANTLY! GUESTS ALSO HAVE THE ABILITY
TO SEE ALL PHOTOS TAKEN AT THE EVENT AND
USE OUR NEW FACIAL RECOGNITION SOFTWARE TO FIND
ALL OF THEIR PHOTOS!
CUSTOM GIFS
LET US CREATE SHAREABLE CONTENT FOR YOUR GUESTS!
OPTIMIZED FOR SOCIAL MEDIA, OUR CONTENT IS
GUARANTEED TO DRAW ONLINE ATTENTION TO YOUR EVENT
MICROSITE
ONCE GUESTS TAKE THEIR PHOTO, THEY ARE ABLE TO
TEXT THEIR PHOTO TO THEMSELVES AND BROUGHT
TO AN IMMERSIVE MICROSITE CONTINUING THE BRANDING
OF THE EVENT. THE MICROSITE IS PRIMED TO HAVE GUESTS
SHARE ON THEIR SOCIAL MEDIA RIGHT FROM THEIR PHONE.
DIGITAL PROPS
PROPS SIMILAR TO ONES SEEN ON SOCIAL MEDIA PLATFORMS ARE
NOW AVAILABLE WITH ALL OF OUR EXPERIENCES. HAVE A THEME PARTY?
WE CAN CREATE A CUSTOM PROP FOR YOUR EVENT OR BUSINESS!
excellence in service
We strive to make your experience as fun, creative, and easy as possible!